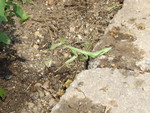 Or, my front yard rather.
Last weekend we cleaned up the planter in front of our house, and planted some flowers. Well, the whole time we had a little visitor watching over our shoulders, i guess making sure we didn't ruin his hunting grounds. A Praying Mantis! He's probably about 4-5″ long, and he's not planning on leaving from the looks of it.
Today I went out to water the flowers, and plant two more that the wife had bought, and as I'm watering one of them, guess who comes running out from underneath? Our garden protector of course! So this time i decided to get some pictures. I ran inside and grabbed the Sony CyberShot (Love this camera by the way.. :P) cranked it up to its highest res. and snapped a few pics.
The gallery can be found here: http://www.undrground.org/geek/gallery/mantis
-War